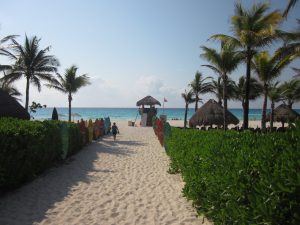 2016: A Year in Review….
2016 was certainly a very challenging year for many of my friends and family. Compared to many, I had a pretty good year. There was just a feeling of some areas being stalled or in inertia. It was also a sad year as we had to put our Odin down after 19.5 years.
Rather than setting resolutions or things I want to change for 2017, and inspired by my friend Traci, I have been trying to think of some accomplishments in 2016 but seem to be drawing a complete blank, but nevertheless, here are some things that have happened that I am grateful for.
A trip to Florida, at the end of January. Wasn't the warm weather I had hoped for but it was still nice to get away and spend time with family and friends.
Had a very nice two-week vacation with family in Playa Del Carmen, Mexico
Mike rebuilt our deck in the summer. We got this awesome outdoor furniture set which we've had a chance to enjoy and entertain on it.
End of the major renovations in the house. Still are some things we want to do/improve here and there, but now we can enjoy it. The installation of the gas fireplace last year has also been a game changer.
Yoga – Teaching. A job I love. Grateful for all the students who come to my home, corporate and studio classes. Grateful for being part of faculty at Adi Shesha Yoga Zone and being surrounded by inspiring women.
Grateful for time with family end of July, August and Thanksgiving
Ran two successful events/workshops in November at Adi Shesha
Happy that my parents are in good health
Completed a weekend in Self-Sabotage and Self-Esteem = more understanding of the voices/judges.
Car paid off this year; money being used for line of credit. Mike and I have a plan to be debt-free'ish in the next 5 to 7 years.
Overall, feeling stronger and better in my own body after the breakdown I had with it a few years ago.
Meditation. Finally understanding what a beautful tool it is.
2017, things to look forward to:
Home classes. Have added a few more options and grateful for that there is interest and also some students who are willing to come to my home to continue practice after one of the studio's location closed in 2016.
A three-week trip to Italy, and a cruise in May
Completion of a built-in BBQ to complete the deck. Or so I hope….