Enjoy the benefits of small class sizes limited to eight people and individual attention. A willingness to play, to ask questions, to not be married to a particular style of yoga. Studio 57, is a lovely little studio out of my home in Ottawa South with maple hardwood floors, plenty of props, a calming atmosphere.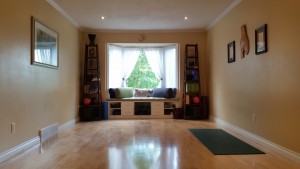 Must Register. Space is very limited. Email nat@simply.yoga to see if space and if interested in joining.
Payments must be made upfront by cash, cheque or interac email transfer to nholst@rogers.com
Drop-ins are available for $15 or $20 depending on length of class, but must email first to make sure there is space available.

Fall Session 2017
Monday: Kundalini Yoga as taught by Yogi Bhajan (10 classes)


Dates: September 18 to November 27  (No class October 9)
Time: 5:45 to 7:15 pm
Cost: $150 for the session ($20 drop-in)
Every class is different and based on a theme. It can be quite vigorous, aerobic and challenging. Lots of pranayama (breathwork), chanting and meditation. This practice is meant to poke, provoke and elevate you, don't be shy, come and discover what this practice has to offer.
Tuesday: Slow Flow – Hatha Gentle – Yin (12 classes)


Dates: September 5 to November 28 (No class October 31) 
Time: 6:15 to 7:15 pm
Cost: $120 ($10/class or $15 drop-in)
This class is designed to help stretch and gently strengthen all the muscles and joints of the body.  Class will incorporate a slow flow style with an emphasis on alignment principles and is suitable for beginners to advanced practitioners who want a great way to wind down at the end of the day.
Thursday: Vinyasa Flow – Vigorous – Yang (13 classes)


Dates: September 7 to November 30 
Time: 6:15 to 7:15 pm
Cost: $130 ($10/class or $15 drop-in)
A class designed for those who are looking for an more dynamic practice.  The sequencing will be at times playful and is loosely based on the Ashtanga series. If you like to sweat and feel challenged then this is the class for you.
Saturday: Hatha Beginner (11 sessions)


Dates: September 9 to December 2 (no class Oct 7 or Nov 11)
Time: 10:00 to 11:30 am
Cost: $165 ($15/class or $20 drop-in)
A relatively challenging beginner practice.  My philosophy is that the more you move the easier it is to be in your body and less in your head. Need to think less and feel more.  This is a well-rounded practice that incorporates a variety of yoga styles to help warm up and stretch the body.  Class moves moderately throughout poses but enough time is given in order to cover key alignment principles and muscle activation.
Cancellation/Make-up Class
In the event of snowstorm or cancellation by me a make up class will be offered at the end of session of the class held or a refund or credit will be given.
Refund Policy for home studio and private classes: Missed classes within a session will not be refunded. Refunds for full session payment can happen up to two weeks before session start date. If you are wanting a refund after two weeks prior to the start date your spot will need to be filled with another student first.