Enjoy the benefits of individual attention, and small class sizes, limited to eight people. Find your sanctuary in my lovely little home studio, with maple hardwood floors, plenty of props, and a calming atmosphere. Location in Ottawa South/Greensboro.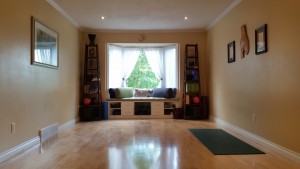 MUST REGISTER. Space is very limited. Email nat@simply.yoga for registration or information.
New Students. If you are a new student to me or to yoga, I may suggest a private lesson to ensure that you are placed in the appropriate level and style of class.
Address will be provided once registration and payment is complete.
Payments must be made upfront by cash, cheque or etransfer to nholst@rogers.com

2019 Session Dates
Winter: January 7 to March 25 (Studio 57 is closed Feb 25 to March 8)
Spring: April 1 to June 22
Fall: September 9 to December 7
NOTES
Winter Session: All sessions are 10 weeks.
Spring and Fall Session. Both Monday and Saturday class are 10 weeks. Tuesday & Thursday are 12 weeks.
Classes cancelled all major holidays, including Family, Remembrance Day and my husband's and I anniversary.
Drop-ins are available for $15 (60 min class) or $20 (90 min class), but must email me first to make sure there is space available.
Class Descriptions and Times
Monday. Kundalini as taught by Yogi Bhajan (90 minutes)
Time: 6:00 to 7:30 pm
Cost: $150 for 10 weeks 

Every class is different and based on a theme. It can be quite vigorous, aerobic and challenging. Lots of pranayama (breathwork), chanting and meditation. This practice is meant to poke, provoke and elevate you, don't be shy, come and discover what this practice has to offer.
Tuesday. Hatha Slow Flow (60 minutes)
Time: 6:15 to 7:15 pm
Cost: $100 for 10 weeks / $120 for 12 weeks 

This class will help to stretch and gently strengthen all the muscles and joints of the body.  Class will incorporate a slow flow style with an emphasis on alignment principles. Suitable for beginners to advanced practitioners who want a great way to wind down at the end of the day.
Thursday. Power Flow (60 minutes)
Time: 6:15 to 7:15 pm
Cost: $100 for 10 weeks  / $120 for 12 weeks  

For those who are looking for a more dynamic practice.  The sequencing will be at times playful and is loosely based on the Ashtanga series. If you like to sweat and feel challenged, then this is the class for you. Good to have some experience with yoga before you give it a try.
Saturday. Hatha All Levels (90 minutes)
Time: 10:00 to 11:30 am
Cost: $150 for 10 weeks 

The class will utilize a variety of yoga styles to help warm up and stretch the body before moving into a more traditional hatha practice of asana (posture) and (pranayama). Consider the class a bit of potpourri with a little bit of this and that giving you exactly what you need to unwind from the week and get ready for your weekend activity. The more you move the easier it is to be in your body and less in your head. Class moves moderately throughout poses but enough time is given to cover key alignment principles and muscle activation.

POLICIES
Payment can happen up to two weeks before session start date.
While I will try to keep the dates firm, schedule may be subject to change.
In the event of a cancellation by me a make up class will be offered at the end of session held or a refund or credit will be given.